Question :
Estimation of regression model with the use of Microsoft data and reporting of results.
Interpretation of estimate of βj from the regression results obtained from Microsoft.
Testing of null hypothesis for the Microsoft stock against an alternative hypothesis.
Performing of hypothesis test using Microsoft data that βj = 0 against the alternative that βj ≠ 0 using the Microsoft data.
Stating what is R2 for the regression?
What will prediction when in January 2009, risk free rate does not change from December but there is an increase in market return increases by 1%.
Answer :
Organization Selected :
Microsoft and Disney
1. Regression analysis: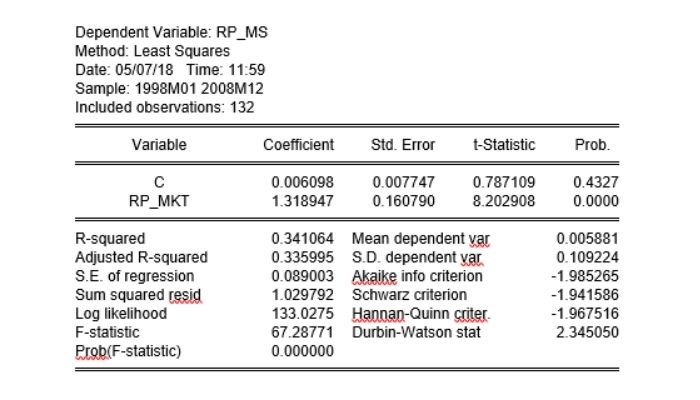 2. Interpreting the estimate of βj from your regression result above:
The above depicted table shows Microsoft case study using with beta value of Microsoft securities account for 1.32 respectively. Hence, considering this, it can be depicted that Microsoft's beta is greater than 1 so it considered as highly volatile. On the basis of this, it can be depicted that securities of Microsoft are highly riskier in nature and move in line with the fluctuations take place in market index.
have a question or
Need assistance
CALL US +1 2139295632
3. Testing null hypothesis that αj = 0 for Microsoft stock in against to an appropriate alternative hypotheses:
Null hypothesis (H0): αj = 0
Alternative hypothesis (H1): αj ≠ 0;
4. Performing a hypothesis test that βj = 0 against the alternative that βj ≠ 0 using the Microsoft data:
Null hypothesis (H0): βj = 0
Alternative hypothesis (H1): βj ≠ 0;